Peninsula Perfection
Join our guide Mateo (an Otago Peninsula local) on a full-day tour of Dunedin City and the Otago Peninsula.
"We were left buzzing with all the beauty and experiences" - Frans and Monica on TripAdvisor
"Great service, great guide... Great for cruise ship passengers" - Kate on TripAdvisor
Description:
Departing promptly in the morning we will take in beautiful Dunedin City. Highlights will include photographic opportunities of the beautiful University of Otago campus, Signal Hill lookout, a drive through the Octagon and George St to admire Dunedin's impressive architecture, a short walk at Baldwin St - the steepest street in the world, and a stop at the Dunedin Railway Station.
We leave Dunedin City and head towards the Otago Peninsula - Mateo's backyard. Beautiful views of the Pacific Ocean and Otago Harbour abound as we wind our way towards Larnach Castle. A stop will be made for a panoramic photograph opportunity along the way and we will learn about the difficulties that the early settlers faced when they arrived to Dunedin in the 1800's as Mateo shares his family history on the Otago Peninsula - a farm that has been in his family for over 150 years!
Larnach Castle will be our next destination with a longer stop here. The Peninsula Perfection tour includes entrance to the Larnach Castle gardens, ballroom cafe area. There is an opportunity to take a self-guided walk around the property or alternatively join Mateo for a short walk through the Native Plant Trail as he shares some knowledge about a few of the special trees growing in the gardens. After exploring the Castle grounds there will be a chance to buy a delicious lunch in the ballroom cafe - fuel for our action-packed afternoon.
A scenic drive around the bays and inlets of Otago Peninsula with our eyes peeled for the many wading birds to be found on the coast leads us to Penguin Place. Penguin Place is a private conservation reserve for Yellow-eyed Penguins and we will learn about the lives of these extremely endangered penguins. A moderate guided walk with just your tour group (taken by Mateo, an ex-guide) allows us wonderful viewing opportunities of these elusive penguins and other marine wildlife (NZ furseals and Little Blue Penguins) all whilst supporting the conservation of these wonderful penguins.
Each month is different at Penguin Place so please use this chart to get an idea of what might be happening at the time of your visit and read below for the latest update: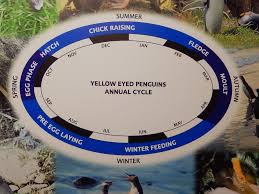 May 2020 - WINTER update: We are currently experiencing record low numbers of Yellow-eyed Penguins - a 76% decrease in the total population over the last two decades has been devastating. Viewing will be variable and we never expect to see quantity but rather we focus on quality of the viewing.
We are through the breeding season now and into the penguin holiday time. This is one of the most exciting times to go Penguin spotting. For most of the day the penguins spend their time feeding out at sea and then typically return home in the late afternoon. We are trying to spot them as they exit the water and waddle to their cosy sleeping spots. Some days viewing will be incredible, others it will be a wild goose chase, it just depends how the Yellow-eyed Penguins are feeling. Little blue penguins and NZ fur seals are still a major and regular attraction in the wild.
The Yellow-eyed Penguin is at severe risk. This is a penguin whose prognosis is potential mainland extinction within the next 10-20 years! Your entrance fees to Penguin Place (included in the tour price) go directly towards the conservation of these wonderful creatures...you can help save the Yellow-eyed Penguin from extinction by joining us on tour! If you would like any further updates on the expected viewing before booking please email us
Our final stop is at Taiaroa Head. We will hope the wind has picked up a little by this stage so that we can see the wonderful Royal Albatross. With a wingspan of 3.2 metres they are an impressive bird to view in flight!
Time now to get back on the bus and head towards the hotel or cruise ship. A chance to ask questions and relax as we wind our way around the many bays of the Otago Harbour satisfied that we have seen the jewel in the crown in New Zealand's wildlife capital - Dunedin.
*The duration of this trip is such that it may not be available as a shore excursion from your cruise ship - please email before booking*
*We cannot guarantee any or all of the wildlife will be seen on every tour - it is wild after all, and that's the way we want it to stay! But we are confident you will experience some special viewing moments whilst learning about and enjoying the best of what's on offer on the day of your tour*
Duration:
Full-day - 7.5 hours (approx.)
What is included:
Transport (Hotel to Hotel, or to/from Port Chalmers Cruise Ship Terminal)
Mateo - your local guide offering expert commentary and keeping you comfortable all day
Entrance fees to Larnach Castle (Garden's Only)
Private guided tour at Penguin Place Conservation Reserve.
What to bring:
A warm, waterproof jacket
A sunhat and sunscreen
Your camera
Comfortable walking shoes
Money/Credit Card for gifts/souvenirs and lunch
Our promises to you:
untamedNZ pride ourselves on small group touring - we guarantee you will have 10 or fewer people in your tour group.
Cancellations:
During these unprecedented times for global travel, we want you to feel confident in our cancellation policy. For any tours that are booked to depart on or before 30th June 2023, we will refund your money in full should you have to cancel your tour - No questions asked. This is a reflection of the uncertainty around COVID and our promise to you as valued visitors to Dunedin.
For tours booked to depart after 30th June 2023 our standard cancellation policy applies:
Cancellations more than 1 week before departure - 90% refund
Cancellations more than 48 hours before departure - 50% refund
Cancellations less than 48 hours before departure - no refund